---
When a loved one has been enrolled in a hospice program at home, CareAparent recognizes families may need increased assistance during these end-of-life stages. Our trusted caregivers can provide the support and care needed so you and your family can focus on the more important things.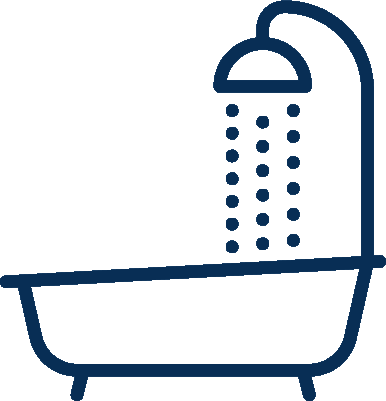 Hygiene and Wellness
CareAparent caregivers can provide you or your loved one with stand-by assistance or full assistance with showering or bathing, sponge baths, dressing, grooming or changing a depends. Additionally, Caregivers can assist with repositioning and adjusting a loved one's positioning in bed. This helps to avoid ulcers and bed sores.

Respite Care
As a family member or primary caregiver, it is important to take time for appointments and simply recharge. CareAparent can provide regularly scheduled care during this time without any interruptions in the care your loved one may be receiving from hospice and family.

Meals and Feeding Assistance
Preparing and tracking meals for you or your loved one according to their eating ability and appetite will assist with ensuring you or your loved one is still receiving the nutrition needed.

Medication Reminders
Taking medication according to Hospice's schedule provides the best level of comfort for you or your loved one. CareAparent caregivers can provide gentle reminders to help ensure medication is taken at the correct times each day.

Light Housekeeping
Our caregivers can assist with household tasks such as vacuuming, sweeping, mopping floors, dusting, and cleaning the kitchen and bathroom. We can also help with laundry, changing sheets and folding clothes. This assistance can help you and your family focus on the more important things.

Education and Support
Very often primary caregivers, family members and friends need support and or have questions during the end of life stages. CareAparent's trusted professionals can assist by providing education and training based on families needs, as well as resources for additional training and support.

Errands and Transportation
As your loved one begins hospice care, daily activities can be overwhelming. CareAparent's caregivers are happy to run errands or pick up groceries for you or your loved one.

Pet Care
Taking care of an animal may seem overwhelming when you or a loved one is in hospice care. CareAparent caregivers can assist with the daily needs of the furry friend including exercise, providing fresh water and food, or litter changes.
Don't wait! Request your complimentary consultation today!
Download Brochure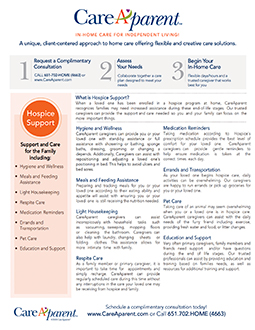 CareAparent Quick Links
When the health of you or your loved one drastically changes it can be difficult to know where to start. Click
here
to learn more.
Click
here
to learn the benefits of a support group for you or your family.
National Institute on Aging provides resources and information for you and your loved ones regarding end-of-life care. Click
here
to learn more.