What is CareAparent doing in response to COVID-19?
CareAparent is taking every precaution to assure the health and safety of our clients and staff by using face masks, gloves, sanitizers, and a regimen of hand hygiene to provide essential senior home care services for the elderly and disabled veterans.
As a home health agency, we continue to provide clients care in their homes during this unprecedented time.
We are monitoring the Coronavirus (COVID-19) outbreak daily and follow the most current and accurate recommendations from the U.S. Center for Disease Control (CDC) and Minnesota Department of Health (MDH), and are working hard on the front lines to make sure our clients get the care they need.
If you or a loved one need assistance at home during the COVID-19 outbreak, please contact our office at 651.702.HOME(4663).
We can help. One day at a time. One step at a time.
If you are looking for guidance and tools for fighting this virus and staying healthy, check out our downloadable resources in the sidebar of this page, or visit the resources below.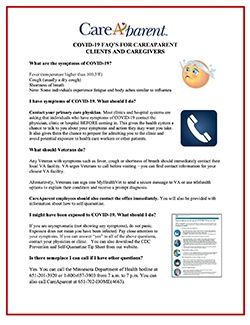 Please click on the
COVID FAQ
 for any questions regarding care.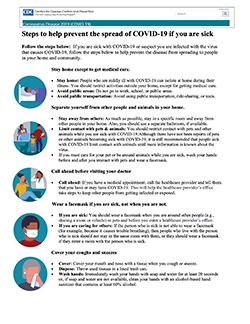 Please click on Prevent the Spread-Self-Quarantine from the CDC.
If you have traveled recently to one of the areas in the world known to have a COVID-19 outbreak or have been in close contact with someone who has tested positive for Coronavirus, and you are experiencing symptoms, please contact your healthcare provider for further guidance, OR take the following steps:
 Go to an online 24/7 patient care portal: OnCare, HealthPartners, Allina Health. Once there, create an account and start your evaluation. After you have submitted your information, you will receive care instructions relevant to your needs. If multiple people in your family need testing, each will have to start a separate case in the portal.
After reviewing the information you submitted about your symptoms and exposure, your care provider may direct to come to a clinic location for testing. The process is simple, and requires nose and mouth swabs. To protect other patients and staff, the care providers may conduct a drive-through test, allowing you to remain  in your vehicle outside the clinic.
Your test samples will be submitted to the Minnesota Department of Health for evaluation. If you test positive, you will be contacted by your provider or a member of a care team and will receive further care instructions.
If you want to do something to provide support to the community, check out these websites for more information.